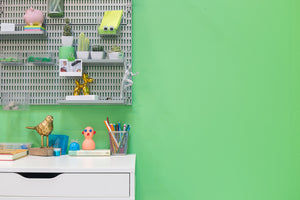 Better Organizing.
All you need is a wall.
Organize with our customizable wall mounts.
Cherish the Things You Love
We believe in living life on your terms. Tidy the way you want and organize the things that bring you joy. We're here to help.
Made Better by You
Organize How You Want
Tight on space and money? Declutter however you want with our wall mounts without breaking the bank.
Shop Starter Kits
Made for However You Tidy
Simple Smart Design
All our accessories are easy to install and easy on the eyes, nothing flashy here. Our simple design looks great in any space with minimal effort to install.
Shop Accessories
Clutter Free Warranty
Do it yourshelf any way you want for 30 days. If you're not tidied up by then we'll take it back. It's that simple.
Our Return Policy
Give the Gift of Tidy
Don't really know their ideal setup? Give them an Allspace Gift Card and let them decide how they want to tidy up.
Give Gift Card